Dear Maria, We have those dreaded honey oak cabinets in our kitchen.  We are not interested at this point in changing or painting them.  I just want to choose a laminate countertop and a backsplash and a wall colour that will look reasonably good together.  I prefer lighter colours for the counter and backsplash.  Could you give me any suggestions?  I know now to avoid beige-pink.  Any little tips would be manna from heaven!  
I think I've been living under a rock because I had come to the conclusion that honey oak cabinets were an 80s trend, because they are mostly not being installed in kitchens in Vancouver anymore. However honey oak is still being installed all around the country as we speak. How I know this, is I keep getting images with questions showing newly installed oak cabinets.
So, if you have them, and are not prepared to paint them white, what should you do?
COUNTERTOP COLOUR
Not a traditional honey oak kitchen but this has a nice creamy countertop.
My first choice would be an off-white or cream countertop and coordinating subway tiled backsplash. This way, your options for wall colour still remain relatively open. Bright white would look just a little too modern with the countrified look of standard oak cabinets and I would definitely not choose anything that resembled Carrara marble.
I find black to be harsh looking with oak. If you select black for the countertops I would not repeat it on the backsplash.
I found this image which I thought was interesting. The floors and and the walls are bright white and not a stitch of white is repeated in the backsplash tile but it relates so well to the countrified oak cabinets and black countertops it works. This is definitely the exception. Notice the great layout, pretty windows, also the abundant light which is what makes the white in this room look wonderful instead of dingy. The average tract home with newly installed oak cabinets probably doesn't look like this.
Gray would be okay but keep it solid and light. This way you have options for wall colours again. I always resist installing finishes that are so bossy, you end up stuck to only two colour options (for example) until the day it comes out.
FLOORING
Wood floors are still the classic way to go and if you have oak cabinets I would still install oak flooring. If you want to update the look, you could consider a hand scraped look and go lighter or darker than your existing honey oak cabinets.
Since honey oak cabinets are NOT trendy, I would not install maple (too contemporary) or grey or espresso brown. That will simply look like yesterday and today all in the same room.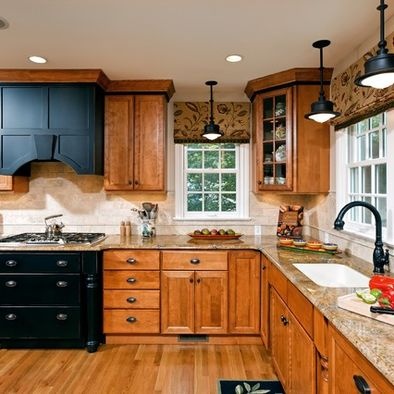 BACKSPLASH
In the second image (above) the backsplash has golden yellow tones that relate to the cabinets. If you want a multi-coloured backsplash, make sure it picks up on your countertops and flooring.
If you have solid coloured countertops in cream or grey then your backsplash should be the same colour. Then the only colours you need to avoid is pinks and pink beige's.
I saw Sleepless in Seattle recently with Tom Hanks and Meg Ryan. This movie was made in 1993 and Sam's boathouse (above) had maple cabinets with matching woodwork and floors throughout, gray walls, countertops and backsplash. It was the 90s when gray was trendy but the grey created a nice balance of warm and cool combined with the yellow cabinets and floors.
Not oak, but the look is not far from what you could create if you were looking for a more classic feel even if it's not a trendy look right now.
Hope this helps, I know a lot of you have oak kitchens and they don't appear to be going away anytime soon!
If you have a question for an Ask Maria post, email me here.
Related posts:
Which Tile is Best for Multiple Rooms?
Which Flooring is the Best for your Kitchen? Tile or Hardwood
When Should you Rip out Brand New Tile?
If you would like your home to fill you with happiness every time you walk in, become a client
Download my eBook, How to Choose Paint Colours – It's All in the Undertones to get my complete step-by-step system on how to get colour to do what you want.
To make sure the undertones in your home are right, get some large samples!
If you would like to learn how to choose colour with confidence, become a True Colour Expert. April in Toronto and Vancouver in May.