I have a small announcement to make! I started this New build series on Instagram and Tik Tok and they went completely viral. I had 45,000 followers on Instagram a week ago and now I'm over 125,000!! Why is this a big deal? Because it seems like everyone seems to care so much about 'how many Instagram followers we all have'.
Terreeia and I are staying in the Hollywood Hills this week, we rented a house to meet with our team at the last minute once I saw a REAL PHOTO of the suite we had rented to have the meeting (in a hotel). There are waaaaaay too many black and grey hotels in this world and in the end it worked out so much better because everyone still had their own room and it was way prettier.
I always love staying in homes because I'm constantly fascinated by how people decorate and renovate.
The house we are in, is like a small Spanish Villa and it's authentic to the style and architecture of the home which makes this bathroom totally timeless (except for the paint colour which can be changed anytime).
This bathroom has two recessed lights (which are not good for applying makeup) which is why you can't see any here.
In this case I even like the way they installed the accent strip (THAT is rare). It's perfect because it relates to the timeless Saltillo tile installed throughout in the other bathrooms and entry.
The sink is even tiled in perfectly and the faucet is perfect (not just perfectly nice).
I don't actually understand the obsession that so many people have with making their shower 'interesting' but this is only because I have seen so much ugly in this space that it takes a lot to impress me.
In this case, I like this shower, very well done.
I also like the contrast grout on the white tile. Notice that the grout on the floor is black. If it was white it would immediately be too busy because we'd have two patterns in this bathroom instead of just the wall tile.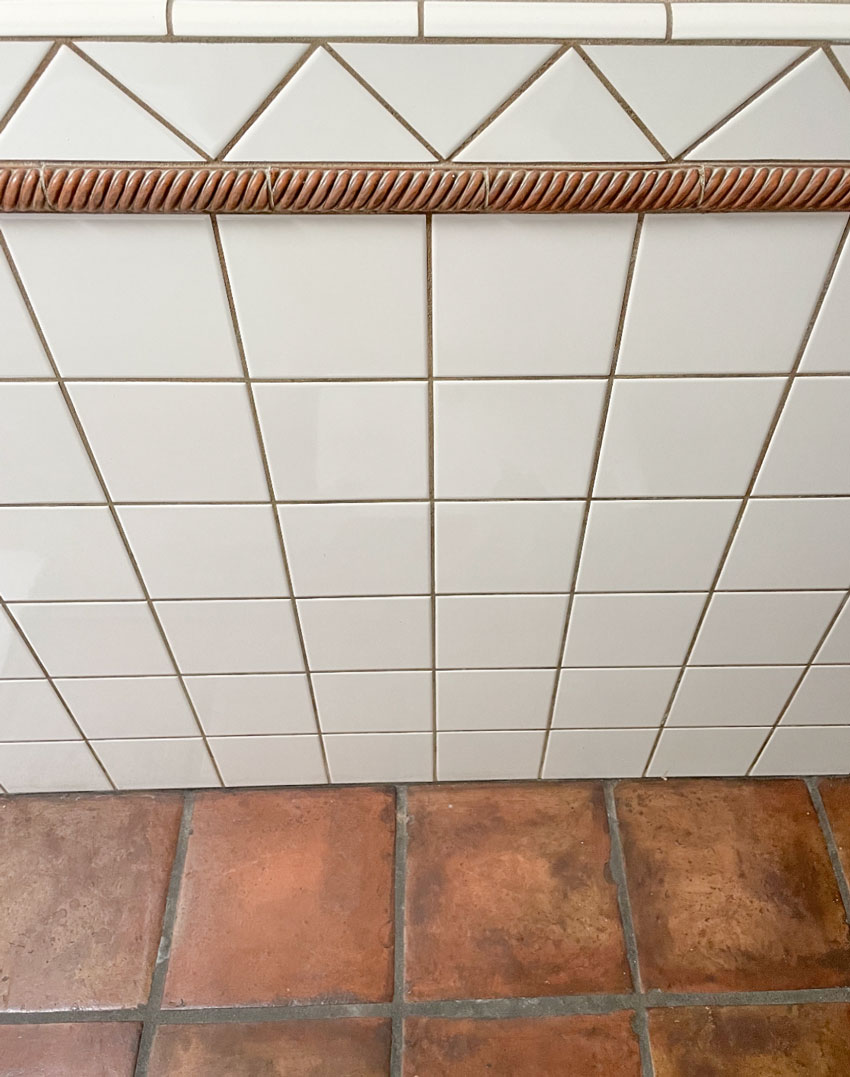 Notice this bathroom in the same house which looks like the vanity was replaced because it looks so out of place.
Which one do you like better?
It almost seems like a more rustic, countrified Spanish style house should have tiled countertops, they just look so good in the first bathroom. Because if you installed black countertops in this bathroom instead, now there's way too much black and orange turning it into halloween. Somehow the corners seem too sharp and of course the 4″ matching kick is not good either compared to the other bathrooms.
Hmm, still not convinced? Here's another bathroom in the same house.
We have an accent tile strip around the tiled countertop and because it relates to nicely to the floors and vanity, it works too.
Now this bathroom might seem dated in a house that doesn't match but in this case they do work with this home.
Over to you my lovelies? Which bathroom do you prefer?
PS. My fall Virtual Specify Colour with Confidence dates are up!
Here are what people are saying from the May virtual workshop:
"Learning to read undertones as well as having her debunk the myth about which way your room faces…I always thought that was the starting point for picking color."
"I'm very excited to apply what I've learned! A really great two days…well worth the time and investment!"
This course was an incredibly informative experience. Maria's passion for color, her deep insights on the topic, and her no nonsense approach to teaching the system, opened my eyes to a new way of understanding the world of color." Shannon Larson
"I found the workshop a little long -I was very tired by the end. The amount of information is almost overwhelming. But I couldn't think of what to cut out." Maggie Seller
"How to think through the process of what stays and what goes and what to do next and why. I now have a process to follow – rather than just use my instincts about what will look right. You packed in much more content than I was expecting to receive. Loved that!" Diane Thurman
"I really enjoyed my time attending this workshop and found Maria entertaining as well as knowledgeable. I think the whole team did a great job! With some practice I feel I will do well with creating flow in my home as I now understand how to accomplish that. I also can recognize undertones which will help immensely" . Thanks Patti Stanford
Related posts:
The Best Way to Work with Saltillo Flagstone
Are Terra Cotta Floors like Jeans?
Terra Cotta is Back! But is it Timeless?