Maria Killam, Lea Junttila, Elizabeth Jacobs
My sister Elizabeth,  Lea and I are slightly obsessed with coats.  This season it got so out of control I had to share it with you!
In my defense, we live in a mild but yet chilly climate (same as Seattle weather), so I'm always looking for the perfect, most flattering puffer.
You know, the one where, once you've found it, you don't keep looking the following year, to see if there's a better one out there.
It's not too small or too big, it keeps you warm without looking like you're wearing a sleeping bag! The sleeping bag puffer is definitely a trend right now but I think it belongs best on young models.
Everyone needs a good coat or two because then, it almost doesn't matter what you're wearing, once you throw on a great coat, you're golden!
I have been especially keen to re-think my puffer wardrobe since Terreeia and I registered with Tony Robbins Platinum Partnership for one year.
Here we were at UPW July 2018 which was our first Tony event!
One of the values Terreeia and I share is personal growth and development! It's such a powerful way to move your life (and your mindsets about money, etc) forward in a powerful way! We met doing a course with Landmark Education where we participated for approximately 10 years. I give a lot of credit to Landmark for the success of our business!
Anyway, for the next year (in addition to the travel we already do for our workshops) we will be travelling to as many events as possible and when you are in a course with Tony, the room is literally this cold so you don't fall asleep:
We'll be on a plane to Palm Beach on Wednesday where we will be attending Date with Destiny, we are very excited! Here's Tony's twitter account.
Anyway, two years ago when Terreeia and I took my Mom to New York in December, I bought a puffer just so I'd be warm enough to walk the streets!
But, in my opinion, it wasn't perfect yet.
Maria Killam and my Mom Hellen
When Terreeia and I were in Boston for our second last workshop of the season, I saw a North Face store, so I popped in to check out their puffers.
I liked this one (below) but didn't buy it because I didn't want to carry it with me, I thought I'd order it online and ship it home.
Lea and Elizabeth's puffers were also flattering (below)! Slimming, not too puffy and not too warm.
I did want this particular puffer (below) to be one step up in warmth from the light one my sisters are wearing.
Maria, North Face | Lea and Elizabeth, Eddie Bauer | Elizabeth's leopard jeans
But at the time, it was suddenly sold out in my size online, so I went back to the store in Boston before we flew out of town, to buy it.
I'm not a fan of faux fur around the hood and I did like the sheen. It was not as slimming as I would have liked, but overall, better than the one I already had.
Then, on the way inside, I saw a woman on the street, who was wearing the perfect puffer and I stopped her to ask her where she bought it.
"It's Tahari and I bought it 15 years ago, I've been trying to replace it and I can't find a better one" she replied mournfully.
"Oh", I said deflated, "okay thanks" and I promptly went inside and bought the North Face Puffer.
Then when Terreeia and I arrived in Orlando, the day before that course, we walked into the Nordstrom Rack and I saw this puffer and tried it on and to my surprise and delight, the brand was Tahari.
And IT WAS THE PERFECT PUFFER! Warm AND super flattering, it even had the little tie with the hood just like this woman's jacket who I bumped into on the street.
By the way, if you haven't searched The Rack for puffers they have a big selection and they are already on sale!
So I snapped it up.
And it was a much better price ($89.00) than the North Face jacket.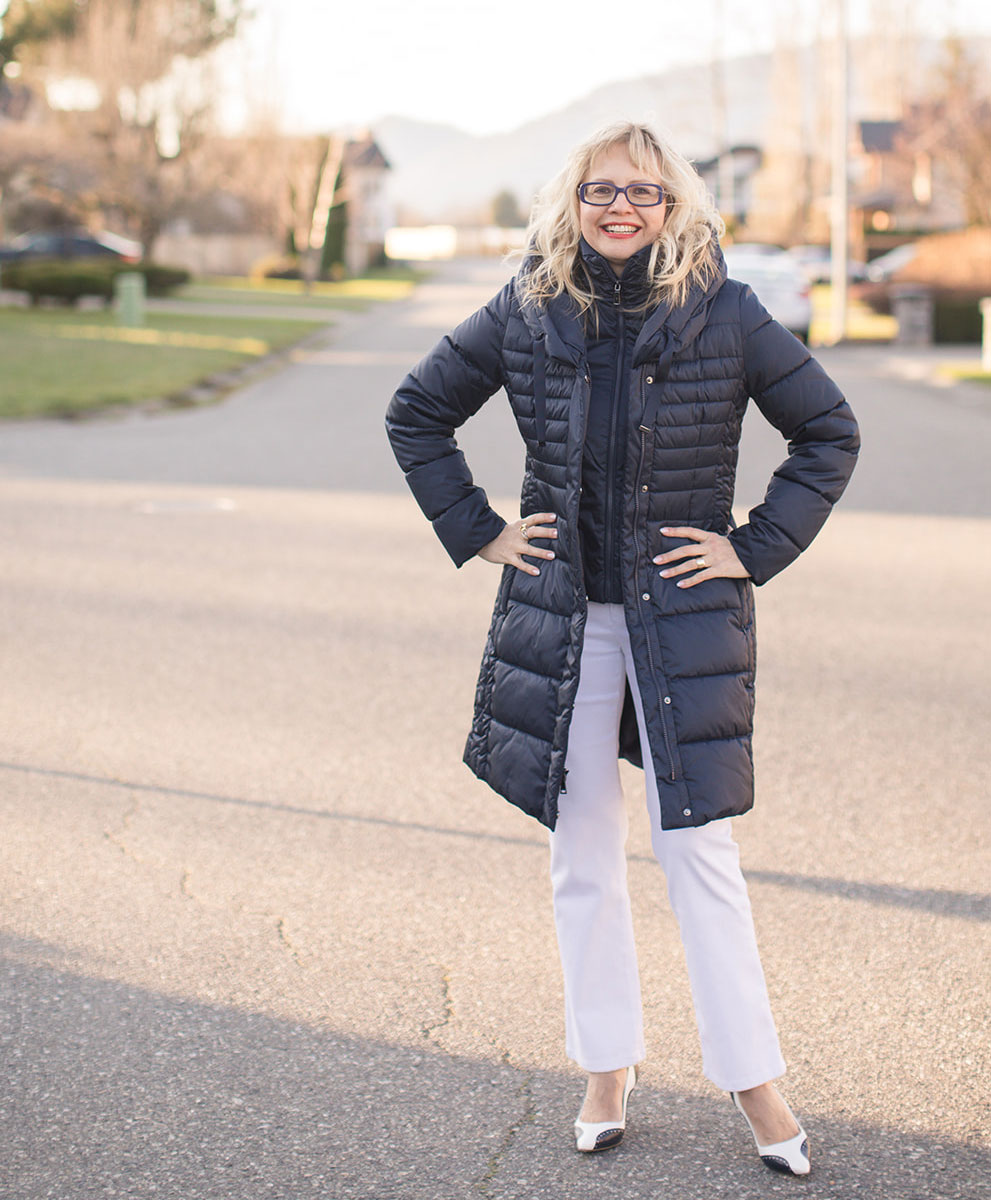 Here I am with my sister Elizabeth in one of her favourite cream puffers she bought at Winners a few years ago.
Elizabeth's cream puffer, similar here and here.
My navy short one was also from The Rack but it was sold out, similar here and here.
Photos by Macy Yap Photography
And then this past weekend, I went shopping downtown with my good friend Jan Romanuk. I told her my puffer story and she mentioned she had just ripped her favourite puffer on a job site. So we went to The Bay to try on a bunch and well, low and behold, I found a lighter, longer puffer that was even better than the one I already had.
If you're in Canada, you can get jacket from The Bay, but I found it at Bloomingdales for my American readers:
I liked this one better than the other THREE light puffers I already bought this season because it's the most flattering! And the zipper doesn't rub against my face when it's open:
The Bay | Bloomingdales | Over the knee boots
Whew.
Okay, I'm done.
Really.
I promise.
I have the perfect light puffer and the perfect heavier weight one and a short navy one (and a short black one, not shown).
Ahem.
Over and out.
Over to you my lovelies. Do you need more room in your coat closet for coats this season? I feel like there are so many gorgeous coats out there and many of them so inexpensive. Especially the faux fur ones! OMG don't get me started on those!
Related posts:
Best 5 Tips When Travelling to Italy (Including packing a carry-on)
Top 5 Fashion Tips from a Stylist