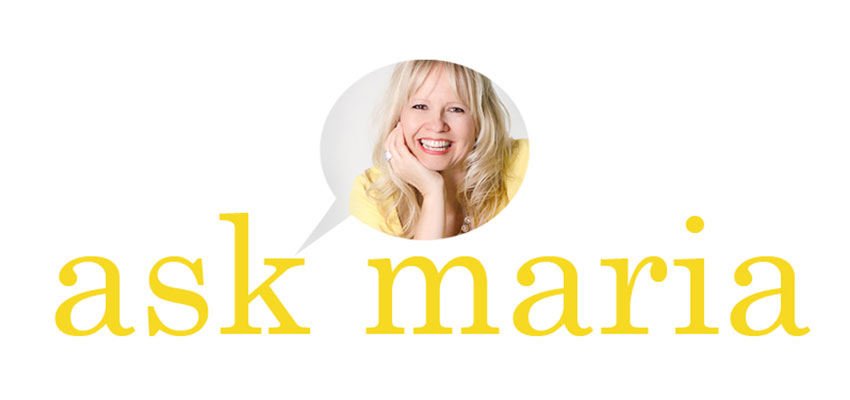 I recently received this question from a new colour consultant:
"Maria, I need some advice, this encounter was a doozy:

I had previewed the house with my realtor friend before the buyer closed, so I already was familiar with the 'boss' of the living room — a rock fireplace with a mostly gold undertone. And, because of some other factors in the connecting dining room, I was prepared to offer a solution of Seashell (BM-OC 120) to start with. The end of the living room had a beautiful Palladian window facing south.
The existing slanted (not too high) ceiling was painted a 'custom' fleshy, orangey undertoned ugly color. The existing wall color was an aqua, which related to nothing whatsoever in the room.
The new homeowner insisted that the ceiling color was her choice and that I should colour-match it, take it to the paint store and find out what color it was.
Her outdated baths had plaid wallpaper that she also insisted had to stay as she was primarily going to use the house as a vacation rental and only occasionally stay there herself. She gave me samples of the wallpaper and asked me to find a dark green to match for the cabinets. No problem finding that. Hunter Green was perfect.
At the end of the call I told her my fee schedule is $250 for the first five hours and $20/hour every hour after that if I need to supervise her work while she's away. Her response was to tell me she would check with a designer friend of hers in Orlando, to see if my fees were appropriate. Hmmm. After getting home I knew that the ceiling color would be totally wrong and emailed her to let her know that the color was just too fleshy, outdated and ugly (I guess that was a bit too direct).
She emailed me: Please come back to my house on Monday (tomorrow), so I can approve the green and PLEASE bring your fan decks!
So I haven't been paid and here's the kicker — she's a VP of Sales for a Fortune 500 company, never married and extremely wealthy.
I am so not wanting to return to her house tomorrow. What would you do?"
Here was my reply:
"Your first calls are just going to go like this until you learn — mine went exactly the same way.
First of all, you're 100% responsible for how this whole thing went down.
You didn't collect for your time that day. Your client should always be clear what your fees are in advance so that there are no misunderstandings and you should ALWAYS ask to be paid at the end of the consultation.
If you had done that you wouldn't be cranky right now, and she wouldn't be acting like she'll pay you when she's good and ready or if she feels like you're worth it.
The value of services always declines after the services have been performed (the Call Girl Principle) and as she wasn't left with confidence in your colour choices, she wants you to come over AGAIN.
You clearly let her talk over you (she sounds like she's either over-confident or a bully) so you did not get a chance to position yourself as THE expert. If you had, you would not have been emailing her after the consultation to let her know that the bad orange colour had to go. She would have been very clear about this during your time together.
And you made the classic error of just doing whatever she asked (trying to make her happy) rather than telling her what would be right for her house and what would be wrong and telling her WHY. Telling her that, actually, you can't and won't choose Hunter green if your life depends on it because it's dated.  And if she goes ahead and chooses a Hunter green on her own she can't tell anyone you were there.
Seriously.
But you didn't have the experience to have that conversation in the moment, so now I would just tell her that somehow, in your conversation, you failed to establish your expertise. You won't be collecting for your time and you're not available tomorrow to come and help her."
Paula thanked me for my feedback and good-naturedly chalked this up to a good learning experience.
Paula's not the only one this kind of thing happens to. Here's an experience I had approximately seven years ago.
I wasn't new to decorating or specifying colour, but this totally put me out of my comfort zone.
I received a call from a woman who told me she and her husband had just finished building and furnishing a 10,000 square-foot house and it needed styling, art and accessories.
Perfect for me, right?
When I drove through the gates and down the long driveway up this $20-million home, I started to feel slightly intimidated.
The billionaire husband and his wife both greeted me at the front door and, as we toured the home and they talked about what they were looking for, he immediately started telling me what a big job this was and how much time it would take. He spoke to me with a condescending lilt in his voice, fully confident that I would immediately lower my hourly rate just because he said so.
He then walked out leaving me in the house with his adorable five-year old son, the nanny and his much younger wife while I walked around, took pictures and fantasized about how this job would turn me into a very sought after, high-end, luxury designer.
The very next day, he called and asked me to meet him downtown at his new luxury condo in a high rise building that he also owned and said to be prepared and show up with some ideas for finishing and styling for the condo.
I can't remember how the conversation went that day but I I've never felt more patronized in my entire life. He said this was a big job and they had big expectations that I may not meet, but he will try me out. He told me I should work really hard and then show up a week from now with my suggestions for him to consider.
He would give me a list of items to source, the style of art he prefers and how I will be reporting in and updating him.
Every sense I had went on full alert. Mostly it was dread and doom from his dominating passive aggressiveness. I just couldn't shake this icky feeling so when I got home I talked it out, went over it in my mind too many times and then promptly sent him an email and declined to take the job.
And after all that, I did not even send an invoice for my time.
Back then, I remember feeling indignant considering how much money this client clearly had, but looking back now, because of steps I missed in the initial phone conversation, I ended up vetting the client when I arrived instead of on the phone, in advance of the meeting.
Because this was not my ideal client, I was unable to provide any value during the call  which is why it was right to not have billed for the appointment anyway.
Who they needed back then would have been one of the recent Interior Designers, Richard Rabel, who attended my Toronto Specify Colour with Confidence™ training.
Richard Rabel (above) was Senior Vice President of Christies for 10 years and now has his own private art consulting and interior design business in New York City – Richard Rabel Interiors + Art
And Richard went through his own learning experience when he first started charging for his art consulting services, this is his story:
"I know that the art advising component could take an immense amount of time and have little rewards (but when the rewards were there, there were huge), so when I started I charged a commission per transaction and nothing else. 

But then I had a client who was requesting I find a Picasso with specific colors and subject matter.  

After close to 8 weeks of prying dealers and private collectors all over the world, I finally found one that fit the bill. 

When I showed it to the potential client, they capriciously said they didn't want THAT tone of pink color and were not interested in the painting. 

Never again. 

Finding the Picasso had me burn bridges and waste people time (including mine) so that was a turning point in the way I charge for art advising. 

Now, serious clients pay me a monthly retainer to cover all the foot work and an agreed commission for any piece of art that is purchased. My time and skill is properly rewarded."
Charging for services is challenging no matter who you are or when you start in business.
Every client and house is different, so after you've been in a few situations that you haven't been in before, you learn how to handle them.
At the beginning of your career, you need every possible chance of work that comes along, and it's easy to fall into the trap of making yourself or your client wrong when you end up in a situation where you are clearly not working with your ideal client.
That's when you need to learn that not everyone is your client because we all have an ideal client that's perfect for our skill set.
Bottom line, if you've had a similar situation and ended up just being mad at your client because you didn't get paid?
Look at it again from a place of being responsible.
Because that's where all your power comes from anyway.
Over to you my lovelies. Do you sell a service (and it doesn't have to be design) and can you relate to any of our stories? Please share in the comments below!
In my Specify Colour with Confidence™ training I teach how to take the lead like an expert in your consultations and how to explain to your client WHY your selection is the best one for their space.
My courses in the US are almost ALWAYS sold out!
If you would like to transform the way you see colour, become a True Colour Expert.
Here's Richards comments about my course:
"There are so many things in life that we think we know just for the mere fact we are breathing beings. One of them is color. Correctly understanding and specifying color is a learned skill and understanding the almost invisible color nuances that make or break a space is a priceless skill as a designer.  This is why I loved Maria's course.  It developed me into a more skillful specifier of color." Richard Rabel
Related posts:
The Quest for the High End Client 
The 3 Most Important Words in a Consultation