Roses from Brooke's garden to greet us in the guest house
Many of us in blogland followed Brooke and Steve Giannetti when they built their dream home in Ojai, California and moved from their previous house in Santa Monica.
They have lived there now for three years since it was finished, but in the Spring of 2014, Brooke posted photos of her gardens here, only one year after it was installed. I kept this post open on one of the tabs on my laptop for weeks afterwards.
It was easier to click once and gaze at her gardens whenever I needed to feel peaceful.
Photo by Brooke Giannetti
Then I scheduled one of my colour training workshops in Los Angeles last month so I contacted Brooke and asked if I could come by, see her place and review her book. Brooke and I started our blogs at the same time in 2008.
She immediately responded with an invitation to stay in her guest house (below). I said, Hmmm. . . let me check my schedule, haha, YES.
Guest house at Patina Farm
This was where we spent the night, it's positioned in front of their lovely pond.
Photo by Maria
These were the very rusty and awesome upholstered outdoor chairs right outside our window in the guest house.
And here was our view from the guest house in the morning.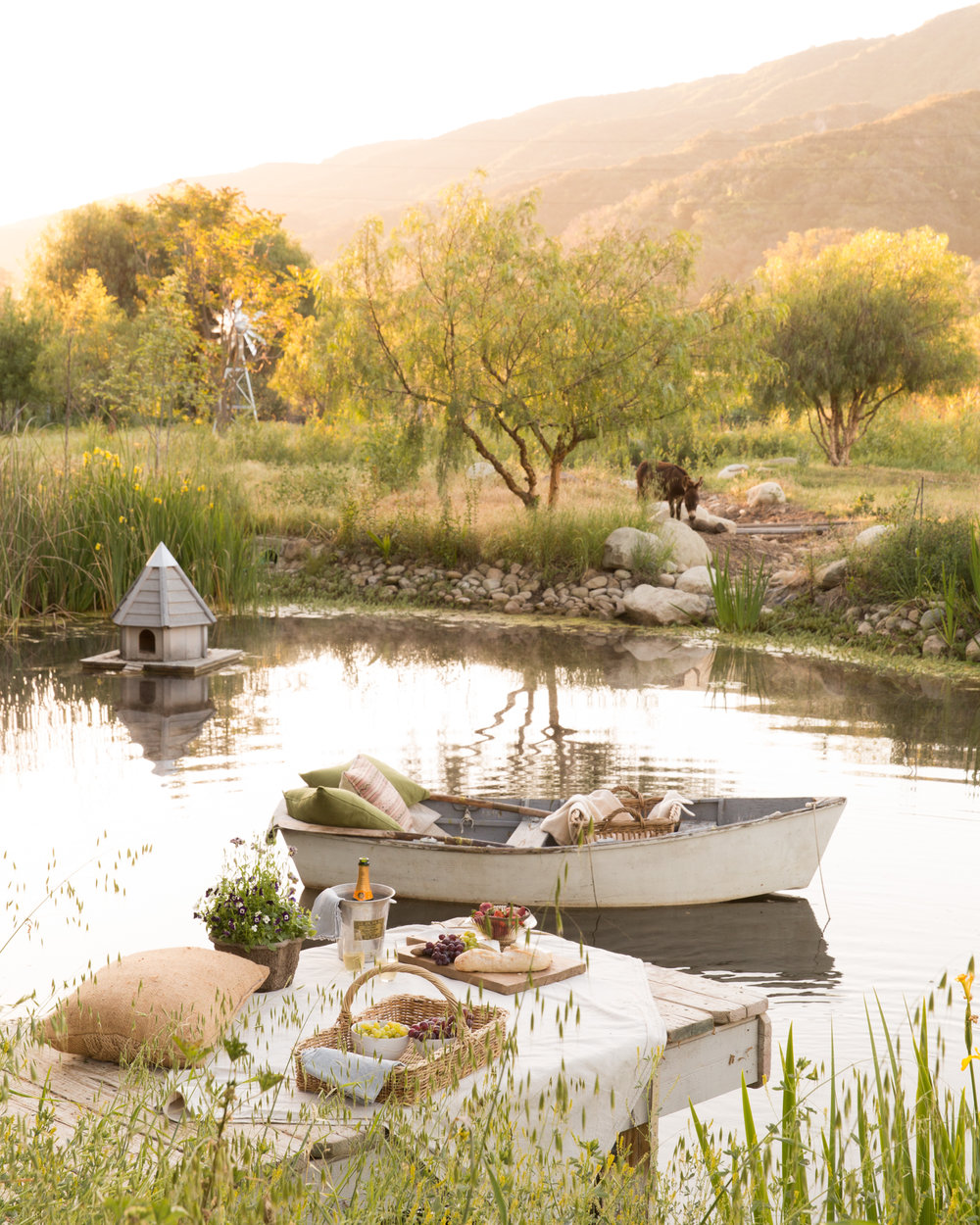 This was a photo of the same pond styled for their beautiful book, Patina Farm.
Here's what makes this house so classic and timeless. There is no tile or stone anywhere except the limestone floors which transition almost seamlessly with the white oak floors.
There's very little tile or stone out there that doesn't eventually date.
Notice there is not a stitch of grey or charcoal anywhere (below). Installing hardwood floors with grey in them will instantly place your new build or renovation inside the grey trend.
And, I know it's hard to find pre-made flooring WITHOUT grey in it, so a little is okay.
Here's how you know the floor you're considering might be too grey: If the overall read of your floors are grey, then they are most likely too grey, but if the overall read is pale yellow or medium brown first, that's how you know you're on the right track.
Related post: The New Timeless Hardwood Floor
Transition between the white oak floors and limestone in the guest house.
I didn't take a picture of the shower in the guest house so here's a picture of Brooke and Steve's bathroom renovation in Oxnard.
Notice the absence of wall tile here in any trendy shape or form. Nothing trendy to worry about because it's only on the floor.
So if you're stressing about which shower tile to choose for your shower walls and you don't have this kind of house so plaster walls aren't going to cut it?
That's where white or cream subway tile comes in. Simple, clean, always a classic. There is simply no reason why your bathroom needs to have all the latest tile trends combined.
Related post: Ask Maria: What's Next After Subway Tile
This is Brooke and Steve's view from their kitchen sink.
The Dining Room
Brooke's office is connected to this vegetable garden where some of her chickens hang out!
Photo by Maria Killam
Brooke says every Tuesday the gardeners put the dirt back in the garden beds that the chickens kick out all day long, haha. Look there's two of them settled into the holes they've dug (above).
I took this photo of Brooke's olive tree in her living room. She said it doesn't really like it inside but for $75, it's easy to replace every 6 months if necessary. Adding this kind of greenery inside really adds to the ethereal look and feel of any interior.
The light on the right is coming through the hallway to the kids bedroom wing (below):
Hallway to the kids bedroom wing. Photo as styled for Patina Farm
This is how it looks the day I took the photo. I love the mushrooms! A decorator never stops decorating, things are always changing!
Years ago I had a reader contact me because she wanted me to help her add some 'colour me happy' to her master bedroom. Inspired by Brooke's neutral aesthetic, she had used linen throughout. The headboard, all the bedding and a wall of windows was covered in the same (pink) beige linen fabric.
What was missing from her decor was Patina. The old and worn decor in cognac and medium brown shades that add depth and interest.
So if you have decorated your entire home in shades of grey and feel that something is missing, this is what you need to add.
And you'll need Brooke and Steve's book Patina Farm to help you with that, get it here. Study the pages of their interiors, get transported and inspired to add some old and vintage to your decor.
My signed copy is in the family room. With an oak leaf I brought home from their garden.
Thanks again Brooke and Steve for inviting us into your home, we loved every minute of our short stay!
Maria Killam
I'm at the airport in Charlotte on my way home from Fall High Point Market. This is my happy face because I'm going home, hooray! Stay tuned for my 2017 trends post next.
Related posts:
Add Some Fall To Your Living Room Using Brown (I did)
First Rule of Design: Boring Now Equals Timeless Later