Black windows with a white exterior and interior is the hottest trend going at the moment, but are they right for your new build? Here's what you need to know before you choose black windows for your home.
First, do you live in Texas or California? If you don't, your windows will never look like this fabulous inspiration image with the skinny mullions (above). They need to be BUILT for cold weather, or hurricanes. That means your windows will look much, much thicker and heavier than this sexy inspiration photo.
Are Black Windows the Best Choice for Your New Build?
Those of you who regularly read my blog will know by now that I approach choosing permanent elements like tile, countertops and backsplash from a classic perspective and exterior fixed elements are no exception.
Consider the source
If you're thinking about installing black windows in your new house, you might have already noticed there isn't a single article advising you on what to consider if you do choose black windows. Everyone just says, hooray, aren't they fabulous?
And I'm not saying that in the right context they are not beautiful. However, I am saying they are not for every house and everyone.
So first, as long as black and white is TRENDY, which it will be for the next 10 years (the life cycle of a trend) all will be well.
You'll build a new house, install black windows, paint the walls white and for a while you'll be happy, maybe.
Installing black windows INSIDE your home means you are forever decorating with black.
But what happens when down the road, you no longer want to decorate with black?
Your windows will still be a prominent part of the colour scheme.
Or what happens if you didn't realize they would be so bossy and you don't know how to decorate around them?
Black windows will NOT look good with the standard 2″ white wood blinds or certainly not black
The other thing you need to consider is how will you cover them?
The minute you cover them with 2″ white blinds, it's over. Now you have white wood blinds, hanging over your black windows and it gets busy. In fact, most black windows online were covered with black blinds, and that is certainly not going to work in every room in your home.
The best option for black windows is a roller shade: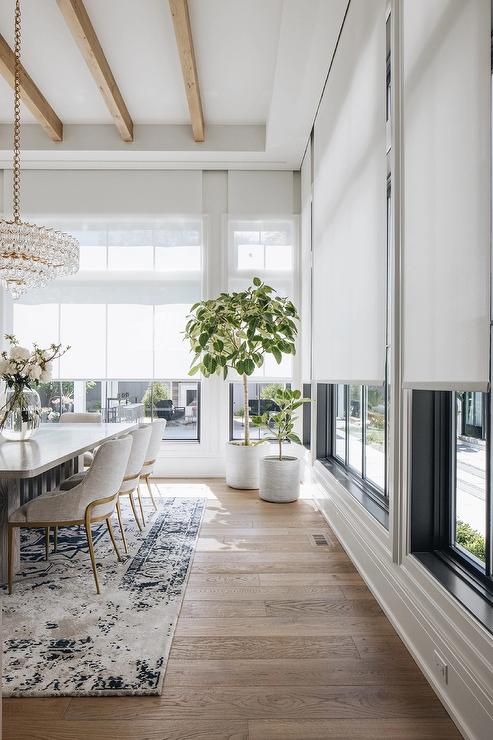 Drapes or roman shades (below) will also work.
Read more about white paint: 4 Reasons Your White Walls Look Bad
Interior Design by Alicia Zupan
Black windows look the best uncovered
When I started writing this post I found an article about black windows written by a window manufacturer. They said one of the amazing features of black windows is that you can (and should) leave them UNCOVERED.
And why is this such a great idea? Help me understand? Who lives in a house with no window coverings?
Yet, the beautiful photos that we're looking at on Pinterest are exactly that. Uncovered. Why? Because then you can see the black window, and that looks the best.
These windows are thicker, but we don't notice that because they are so symmetrical and also balanced by the black lampshades. There'a also A LOT of window here. And the other good thing this white kitchen doesn't have is little bitty black hardware spotted throughout. Makes it look a lot more timeless and a lot less "We renovated our kitchen during the pandemic".
Via HGTV
Here's the other issue with the black windows you're in love with. Online, you're looking at the beautifully decorated interiors AND exteriors. Created by designers. Interiors that have a look and a feel.
Those are the photos that get pinned OVER and OVER and OVER AGAIN. In fact, they are so heavily pinned (and many of them on link-bait sites), it's impossible to find the actual source of most of them (believe me I tried).
The beautiful uncovered black windows are the ones that are pinned to your boards.
Go back and look at them right now, I'll wait.
Black windows not covered properly from the inside look like black holes during the day
And wait, what about the exterior? If you choose the wrong windows, they will look like black holes.
Windows at the best of times, always look black ALREADY during the day (below).
via source
These windows are small (below), the architecture is beautiful and the window boxes are filled with white flowers. Here the black windows are working: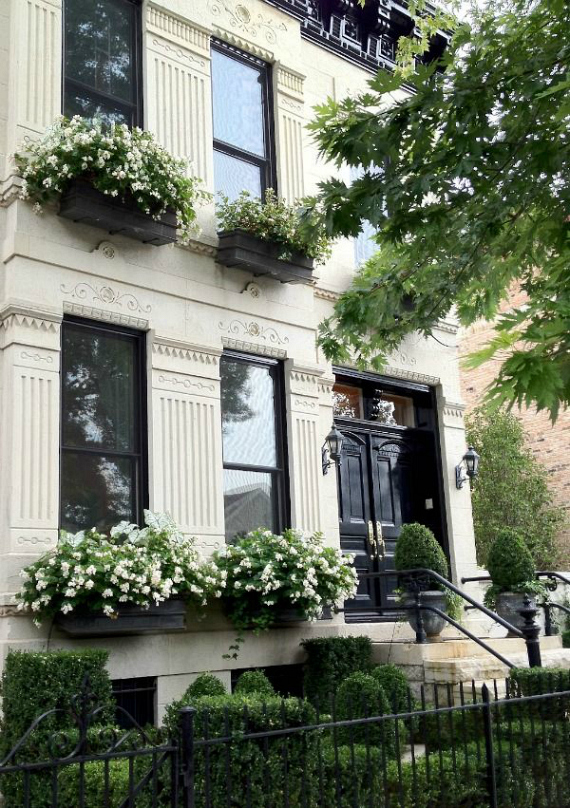 Homes with black windows are strategically photographed
This photo has been taken at dusk (below). Have you ever gone for a walk in the early evening, before the sun sets when you can see inside people's homes (because the lights are on and they haven't closed the blinds or drapes yet?).
That's what is happening here to make this photo look so great. You can even see the sun setting through the clouds in the second floor windows. This same house during the day will have black holes where the windows are:
If you look again at your most beautiful inspiration photos, they were taken with the lights on inside the house, or close enough so the photographer caught the trees reflecting in the windows.
via Pinterest
The windows are a lot thicker here to withstand the weather but again, we don't notice that because of the beautiful photo, taken at dusk.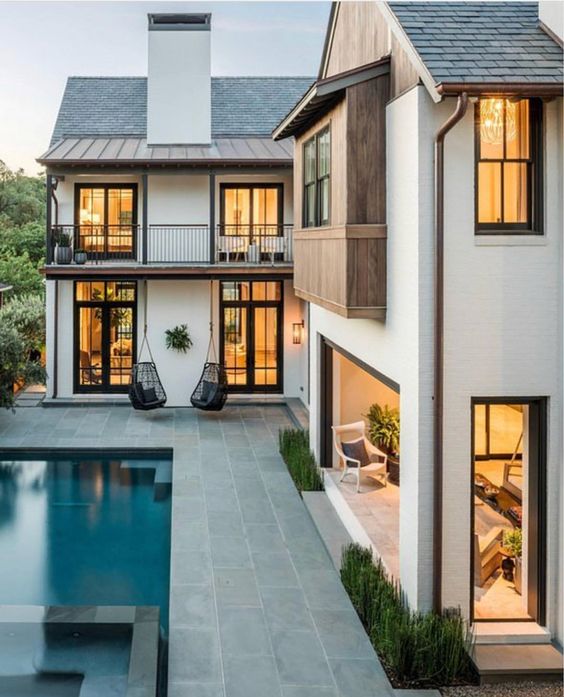 Image source
This house is probably located in Texas (below):
Image source
Since black windows in the interior of your house are so bossy, if you really love this look, I would keep it to the exterior of your home and still specify white (off-white or cream) for the inside.
And, if you've read all of the above and still want black windows, here is my best advice:
Keep the mullions super THIN (Again, only possible in warm climates without hurricanes)
Love these, however, notice AGAIN the lack of window coverings.
via Ryan Street and Associates
This image has been circulating for years! And again, it's uncovered.
Image source
If your windows are black, you need to repeat it in your decorating
Image source
Right away, you can see that this is a ski chalet. Windows are thicker and much more prominent (below).
via Design Sponge
via Atlanta Homes
Image source
Black must be repeated in the interior to look fabulous
Notice when the black is not repeated, it starts looking like the wrong colour choice (see below). The brown stump doesn't really count in repeating the black. And this but he way is what most of your black windows will look like. Thick and heavy and overpowering, especially when you forget you have black windows during your new build and install a kitchen or bathroom without a stitch of black in it.
Via Freshome
If you have a primarily earthy colour scheme in your interior or exterior, skip the black windows.
White and fresh goes with black. This house (below) is earthy.
source (this house will look wrong forever)
Earthy goes with cream. Trust me on this one.
My exterior masterclass goes into this at great length, including what you can do to fix your curb appeal if you DID install black windows and they now look like dark holes, you can buy it here.
Leave your black windows uncovered
You might be in the luxurious position of living in the middle of nowhere. Or surrounded by privacy trees, or a courtyard?
As I've just said, most of the inspiration images online have UNCOVERED black windows.
Why?
Because they look the best that way.
Image source
Image source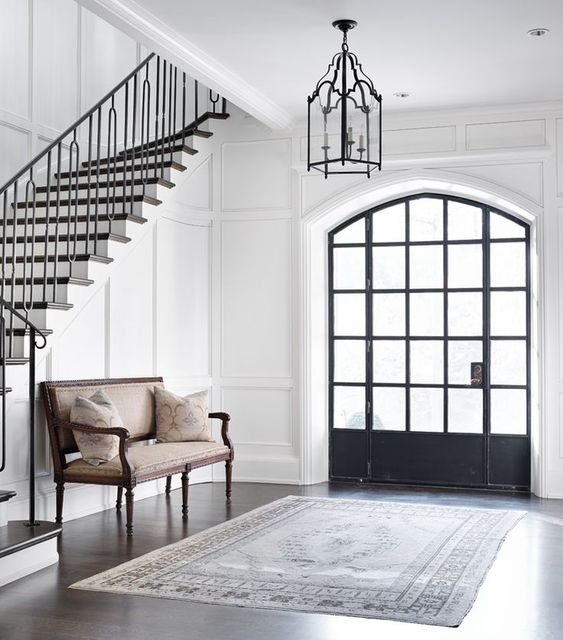 If you subscribe to the 'every room needs a hit of black' then black windows might be for you, but choose them with care instead of just buying or specifying them because you love all the inspiration images you're seeing.
Bottom line, if you do not plan to carefully decorate your home from top to bottom, I would re-consider installing a window in such a bossy colour, in the inside of your home anyway.
Over to you my lovelies, who's installing black windows in your new build?
If you need help coordinating all your new build colours and finishes, this is what it looks like to work with me. See all of my eDesign services here.
After all, what colour your windows should be is only the first decision, there are many more to come and if you don't know FOR SURE, which colour to choose, and WHY it's the right decision, this is not the time to guess. Guessing equals mistakes you'll have to live with forever.
Become a True Colour Expert
Make confident decisions about hard and soft finishes in your home projects when you become a True Colour Expert!
Here is another fabulous class of True Colour Experts from a SOLD OUT Vancouver event.
We had new designers, experienced designers, homeowners who want to learn how to make informed colour choices every day themselves and homeowners working on new builds! Everyone can learn my System for Specifying Colour at the same time!
Become a True Colour Expert in my live, virtual two-day workshop here.
P.S. See the black windows (below)? And they sure are pretty when the lights reflect against the windows at dusk just like I mentioned in my post!
Related posts:
10 Steps for Planning Your New Build
5 Best Ways to Choose Your Roof Colour
Ask Maria: What Mood Does Black and White Convey, Warm or Cool?