When you're making decisions for your home, you want to know what's going to look either current or timeless above all. Here is my take on the popular paint colours that are on their way out going into 2024.
In 2015 when I first suggested that 'Grey is Out' because back then we were about halfway into the grey trend, a lot of people lost their minds (just go read the comments).
But what I was really saying in that article was that there was nothing wrong with grey as long as it was used as a backdrop for colour NOT as the MAIN colour for absolutely every colour choice for the home.
So colour #1 that is going out of style truly out and has been for a while but it probably needs to be said here is mid-tone grey EVERYTHING.
What to do instead: Reach for warmer pale wall colours like the complex creams to freshen up grey colour schemes.
Or, if repainting is not in the cards this year, make grey rooms look more current by layering in toasty earth tones like camel and brown or fresh colour like green or coral to create balance with warmth. Swap out area rugs, accent chairs, pillows, art and decor to update the look.

#2 Off White Walls
Someone had to say it and it might as well be me.
We are 5-6 years into the black and white trend and again, while there is nothing wrong with white. Even I thought it felt so fresh and new when it first arrived, it's being overused much worse than any other trendy neutral.
I had a friend message me a photo of her house from the earthy tuscan trend.
Dark cabinets, pink beige tile and pink being carpet. She said "We're selling our house and the real estate agent told us to paint everything White Dove do you think that's a good idea?.
And the answer is no, because here's what it will look like:
Not her house but this is the idea. Off White walls will look like primer in a house with finishes this warm.
It's time to stop acting like off white is a colour. SW Alabaster won't look like it has a "hint of oatmeal". Certainly not in the context of earthy finishes. And not even with most upholstery and soft furnishings.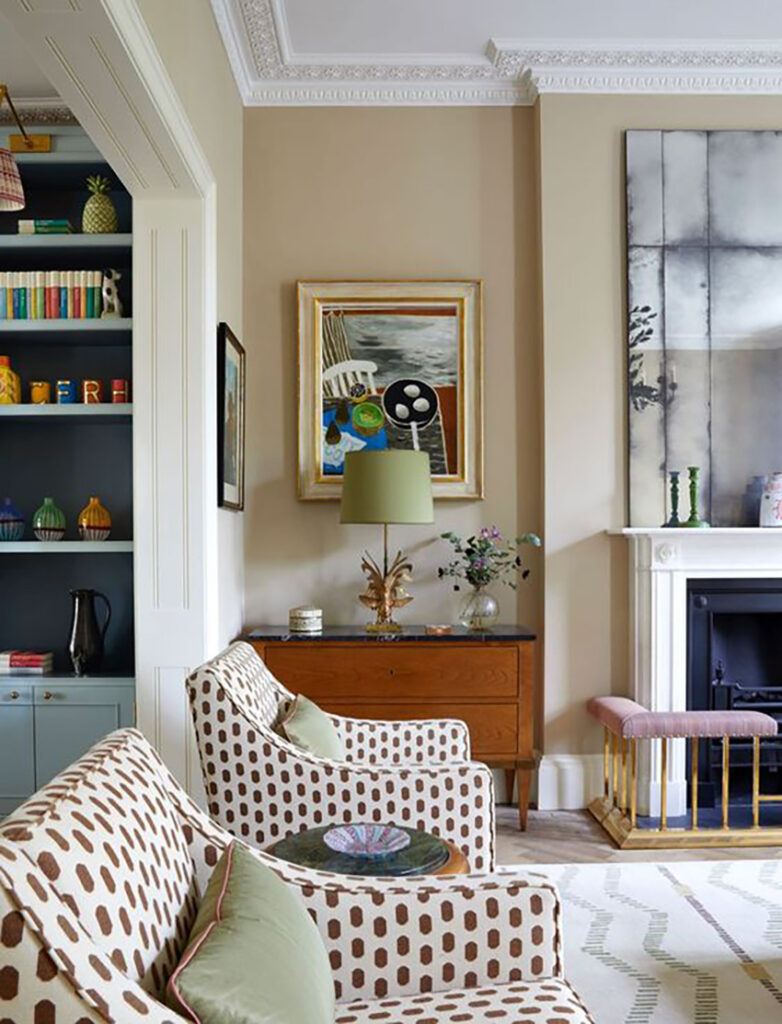 What to do instead: Off White is a great fresh trim or cabinet colour to contrast with friendlier wall colours. You can get a fresher look for the walls with much more subtle colours.
Enroll in my Expert Colour & Design Training to be the go to colourist in your area.
#3 True White Walls
Honestly, true white walls like BM Chantilly Lace or SW High Reflective White should never have been a thing except in the rarest of spaces. With furniture that is all super bleached white slipcovers. Or hyper minimal modern spaces that look better in blown out photos than in real life.
Throughout the white trend I have been calling this out. Brighter walls aren't better. They don't create light. They don't look right unless they are in FULL natural light which is rare. And worse, they make your furniture look dingy.
If you painted your walls True White, the outlook is not great to get a better look via decorating alone.
What to do instead: take stock of the neutral undertones in your hard finishes and furnishing to inform the right pale neutral wall colour.
Click here to get my help choosing the perfect softer colour for your walls.
#4 Any kind of black paint
This side of the black and white trend, chances are high that you have some black accents in your home whether lighting, windows, hardware, furniture, etc.
However, if you've painted anything black, (and I'm crossing my fingers here that you didn't paint all the walls in your open layout black), now's the time to consider a softer look and get out the roller.
Warm, earthy tones in softer contrast combinations are coming fast. As are more adventurous vibrant colour combinations. And if you've kept the big things simple and versatile in white, like your countertops and tile, you'll have an easy time layering in some of these new colours in accents and paint.
What to do instead: Instead of high drama colours in sharp contrast accent walls, drench the room in a softer mid toned to light colour for a current take on bold.
Remember to take any trend advice with a grain of salt
Someone messaged me on Instagram the other day and said "I painted my exterior white but if you think I should paint it a better colour I will".
I responded "No, buy some furniture, the paint job is done and it's certainly far from bad".
It's simply that everyone else's house is white or black right now that's all.
I'm just saying when this trend is done, you might have wished you spent a little more time obsessing about paint colours inside and out.
But if you are painting your exterior, my course on getting your exterior paint colours right will give you lots of options. A paint job is still not cheap especially for exterior. Get it here.
And I just received a note from Michelle who completed my two day workshop last October she said "Hi Maria, I'm in the midst of a renovation, I took your class last October and still can't believe how helpful it was!"
Whether you're a homeowner or designer, you will have a completely different vision and point of view when you've completed my Expert Colour & Design Training, there are still spaces left in Dallas, November 24 & 25, register here.
PS. My front garden beds are going in, my septic tank covers will be covered by dirt and plant material very soon.
Also, the chandelier I've been waiting for was finally installed in my kitchen yesterday:
It makes me so happy!
The shades are made for chandelier bulbs so you can buy them for your bare bulbs as well and I highly recommend that you do, they make such a difference.
The goal is glowy light everywhere which is not possible with ceiling spot lights and bare bulbs that make you want to squint.
Related posts:
Ask Maria: Which Undertone Should I Choose if I'm Starting From Scratch
How I Reply to Media Requests About Colour and it's Effect on Mood