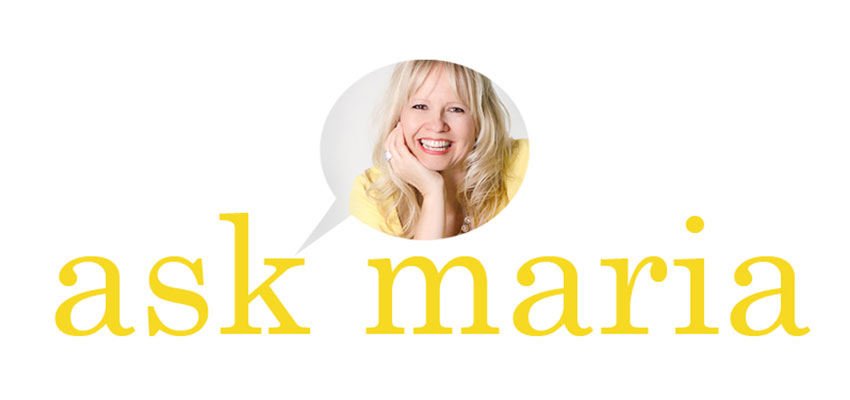 "Reading your blog is part of my long-range planning for the renovation of my kitchen, and like you I´m a big fan of white kitchens.  My Ask Maria question is, would you put white appliances in a white kitchen?

When we had to replace our fridge before we were ready to renovate, I picked a white fridge that would match the white cabinets I planned to install.  But now, a few years later, the color of the fridge has aged and darkened, not quite to bisque but close, and definitely much darker than white.  Part of me wishes we´d chosen stainless, even though I don´t really like the look and I fear it would need lots of cleaning.

So… do you put white appliances in a white kitchen, and repaint them every few years? Or do you use stainless?  Or do you do something else?" Thanks! Anne-Marie
Great question, when I posted photos of my stainless appliances someone said my kitchen was dated already, but look, to upgrade to integrated appliances would have been totally over-renovating.
I'm already over-renovating in so many areas of my house in the country.
Basically, I think your options are, white (but white does look cheap er–and they are) then stainless, then integrated. The end.
Oops, I almost forgot black. I think there is a place for black appliances but they would not be my first choice because they are so dark. However the black definitely should be repeated somewhere else in the kitchen, like this one below.
In the above photo, you can see that the appliances are white and the cabinets are off-white. Still a pretty kitchen, however if white appliances are what you know you'll have for a very long time, I would work with the white by painting your cabinets SW Extra White or BM Chantilly Lace or Decorators White.
Or, better yet, paint your kitchen a fresh blue or green which would look fabulous with white appliances.
Love the birds, what a fun styling idea for that space above the cabinets.
Yes there are new colourful ones but then we're back to the avocado appliance of the 70's. I just don't think we want to go there again.
Back to the actual question, can you have white appliances in a white kitchen?
I haven't seen many white appliances that went yellow but I agree that it's hard to make them look really good because you can't match the whites, that's why a colour is a good idea too!
So now I'm curious, how many of you have had your white fridge or appliances change colour?
ps. If you have a question for an Ask Maria post, email me here.
Related posts:
White Kitchen Cabinets
Move over Neutrals: Color is What's Cooking in the Kitchen
Renovating Around Bossy Colour Trends
If you would like your home to fill you with happiness when you walk in the door, become a client on-line or in-person.
Download my eBook, How to Choose Paint Colours – It's All in the Undertones to get my complete step-by-step system on how to get colour to do what you want.
To make sure the undertones in your home are right, get some large samples!
If you would like to learn how to choose colour with confidence, click here to become a True Colour Expert.