Trends are always moving. You can't pin them down. When you've been in the colour business for as long as I have, it's fascinating to watch.
And it's also the reason I'm so jaded about each new tile trend fad that comes along.
I'm talking about hard finishes because they are the most permanent. I really would like to save the world and especially YOU from so many unnecessary renovations.  It's simply not reality to rip out tile every time the trends change. Yet we keep installing the trendy tiles like we'll love them forever.
Related post: Ask Maria: Help! I Don't Want the Same Kitchen as Everyone Else
Last month when my participants-designers and colour enthusiasts-started arriving at the location where we held my Specify Colour with Confidence workshop, they had barely  walked in the door when they started asking questions about greige.
"Maria, will you be talking about greige?", was the overwhelming question.
And then while in LA, Tricia my design assistant, wrote a post about the newest trend which is painting your trim and walls the same white (or cream) because we've noticed that it happening in our eDesign consultations.
Related post: Paint Your Walls and Trim White (or Cream)
The white-on-white trend was born out of necessity.
There are way too many homes filled with moulding and millwork that were built or decorated in the Tuscan Trend and before that in the 90s with lots of dark slate. Not only would it be very expensive to paint all the woodwork white from the existing cream, but you can't do it without changing out the Travertine or dark earthy tile floors because the contrast would be too high, and white or off-white would start looking too stark. Keep reading the example photo is below.
After my workshop in LA, I was home for one week and we flew to Washington, DC for my next course.
Here the questions were largely about white.
I don't launch into my training about white until the afternoon of Day 2, but the questions kept flying, so I'm moving the section about colour and light up to Day 1.
This is one of the big reasons why my course is never the same.
And here's what's new about white that you should know:
Cream Hard Finishes = Cream Cabinets, Greige Walls = White or Off-White Trim
If you have earthy hard finishes or more creamy tile or countertops in your kitchen which dictates a creamier colour for the cabinets, then this is when you should break the usual guideline of coordinating trim colour with cabinets and simply choose a coordinating lighter trim for the rest of the house.
Why? So your overall wall colour can be a paler colour or a greige.
If you choose a lighter colour for the walls but your trim is still cream, it might start looking dirty.
Related post: Ask Maria, When is White Dirty?
Often when I talk about trends, I'll get comments saying it has to do with marketing and sales. That companies have to continue to make money by telling you to switch your finishes from silver to gold, for example.
Consider that after 7 – 10 years, you'll be craving a change no matter what's happening with the trends.
I know a woman who changed her living room every 7 years whether it needed to be done or not.
We can't all do this of course, but paint is cheap, so if you've been living with an earthy palette for a few years now and want a change. This is how you can pull it off.
Obviously paint can't do all the heavy lifting. Sometimes you'll need to freshen up your accessories or change your upholstery.
This kitchen (above) is cream because the granite is cream and not white. So if your kitchen is BM Ivory White (for example), then your trim could be BM Cloud White.
If you need the gradation of light to dark for blue white, off-white, true-white or cream you can find it in my White is Complicated eBook which you can download here.
Earthy slate tile or dark Travertine needs cream woodwork to look correct.
The fixed element dictating the trim colour in this house is the dark Travertine floors (above). The current trim is way too white and should be cream.
This slate has cream in it which is why the cream cabinets look good. However, the wall colour in this kitchen can NEVER be white because of these floors.
Therefore, if this is your kitchen and you're clear this tile is not coming out anytime soon, AND you are craving a fresher colour throughout the rest of your house, then you have to treat the woodwork elsewhere like you are 'moving forward' and choose an off-white that works with the cream cabinets in your kitchen.
In this floor, there are about 5 colours and not one of them is white or cream giving you no alternative except to paint the cabinets a colour.
A white or cream kitchen with this slate will always look a little bit wrong.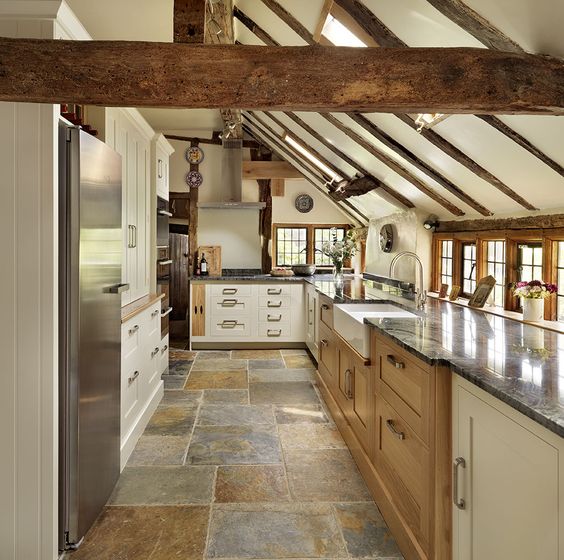 This kitchen has a similar slate floor but the orange has been repeated in the wood stain.
Better.
Moving forward.
That is what you have to do when the trends change. And that means you have to break the regular guidelines of having everything coordinate.
Because we just don't live in a perfect world. And there's nothing wrong with that!
If you need help with your whites, you can download my eBook here. It's 150 pages filled with photos and instruction of how to get your white right. Way more that could ever fit into a blog post. Plus it includes my Bonus Book of Whites to narrow it all down for you.
Just had 3 fabulous days in Vienna, Virginia last week with 21 new True Colour Experts and then Terreeia and I stayed at the Jefferson Hotel (above) in DC for the weekend.
Don't you love how my shoes (from my recent trip to Paris) match the marble inlay?
DC True Colour Experts at the Westwood Country Club
We are often at Country Clubs because we always need windows for all the in-class exercises.
Lori Steinman, Deb Landy, Maria Killam, Susie Marentis, Jenna Steckler
Lori Steinman from Everett Scott Designs (above) said this about the course:
Taking Maria's 3-Day Specify Color With Confidence course was time and money well spent.  Each day was chock-full of information, exercises, and tools to make the job of specifying colors a snap. Not only will this course strengthen my skills as a designer, but will give me the tools to help my clients understand WHY colors I specify work. Priceless!

I also enjoyed Maria's warm, approachable style and wonderful sense of humor. She is an exceptional instructor who reads the needs of the class well and adjusts her instruction accordingly.  She is truly amazing and inspirational. 

I think we all benefitted from the wonderful camaraderie of the group and came away with friendships that I expect to last a lifetime.  

I am so thrilled to have been part of this experience!
Register here if you'd like to transform the way you see colour!
PS. I'll be at High Point Market this weekend coming up after my course in Charlotte so you'll want to follow me on Instagram to see all the trends I'm snapping!