Hi, fellow color enthusiasts! I'm Traci Zeller, and I create crisp, classic and chic interiors and products that make family-centered lives simpler and more stylish. I live in, and my design work is based out of, Charlotte, North Carolina, but I happily reach people all over the country through my eponymous blog and with my products for the home. It was so much fun answering Maria's questions!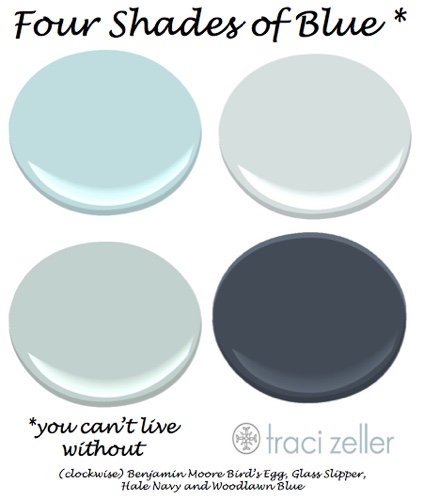 What's your favorite color?
I love all shades of blue from robin's egg to sky to navy. Blue is such a chameleon. It can be everything from soft and serene to dark and dramatic!
My favorite Benjamin Moore blues are Woodlawn Blue, Hale Navy and Glass Slipper. My twin boys' room (below) is a variation of Bird's Egg. I may flirt with other favorites, but I always come back to blue.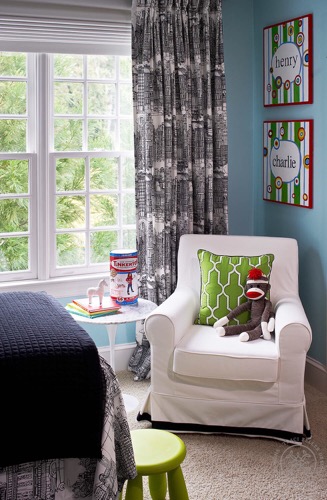 What was your biggest color/design mistake?
Never let painters come to your house the day after significant eye surgery. Most people would consider that common sense, but oh no, not me. I could barely see straight, and I was under doctor's orders to rest my eyes for at least several days.
Yet there I was, trying to decide if my ceiling color was too light. I called my studio partner Lisa Mende for a second opinion, and we ended up back at the paint store. For the record, it's also not easy to select paint colors when you are hiding behind sunglasses!
For the second coat, I went one shade darker (shown below). What do you think? I say, all's well that ends well.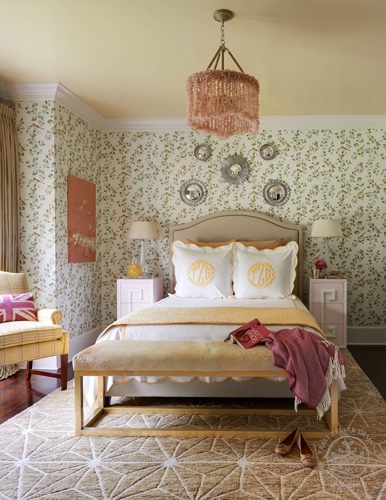 What is the most important color lesson you've learned?
I cannot count the number of times I've launched into a "three undertones of beige" lesson with clients. Most people who dislike beige are referring to yellow-beige or pink-beige, but they don't have the language to explain that. Fortunately, I do!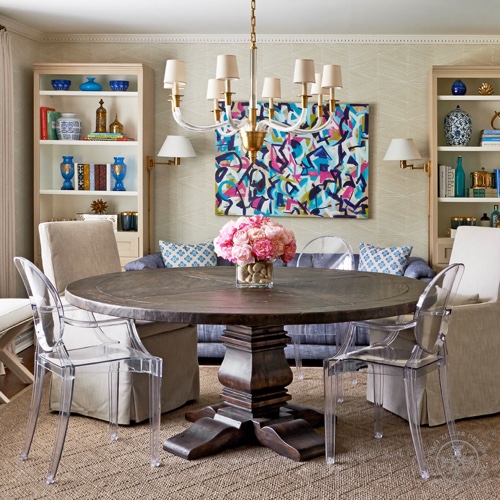 When it comes to color, what's hot? What color do you think is timeless and what color would you love to see disappear?
Navy blue is trendy now, which I adore. White and off-white are timeless. I pray peach doesn't become popular, because I'm not sure I can go there again. It reminds me too much of Esprit sheets and Caboodle makeup organizers!
With pink or coral, I'm all in, as evidenced by this bold bedroom for a precious little girl (below). But peach? It's a "no can do."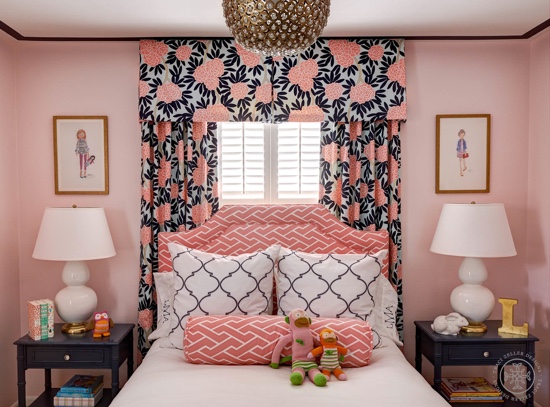 What do you think is one of the biggest mistakes homeowners make with color?
I think printed paint chips only exist to make people believe they are making an educated decision on color. Please, please, please, do not rely on the paint chip! Painting a large sample will save you so much heartache. Lucky for you, Maria's already explained the best way to use those samples! That's the process I walk through with every client.
Which part of participating in Specify Color with Confidence created the biggest breakthrough/aha moment/insight for your business, and how did it help you move forward?
Because of Maria's Specify Color with Confidence course, I am more confident in my color selections. I also have the tools to explain clearly why I've chosen a certain color – which, in turn, gives my clients more confidence in me. It's a win-win! Truly, I can't imagine how different my business would be if I hadn't signed up for Maria's course five years ago.
I appreciate Maria having me here today! I hope she's having a great time in Italy … even if I'm a teensy bit jealous. I'll be around in the comments to chat with all of you, so let me know if you have any questions. Oh, and I also have a gift for everyone! Click here to grab a copy of my free guide, Can't Keep Up? 5 Ways to Simplify Your Home.
Which blue is your favourite?
If you'd like to become the next True Colour Expert™ in your area register here.
Related posts:
What Everyone Should Know About Beige
What Everyone Should Know About Blue