I am very excited to announce that my Sherwin Williams colour boards are ready! They are called The Essential Collection and were designed to go with my new White eBook which you can download here.
My colour boards are though, and I specifically chose 25 of the most popular whites and greys from Sherwin Williams so that anyone who needs to choose a white for walls, trim or cabinets can now get it done for a more reasonable price point than having to buy an entire set of 50 from the Benjamin Moore collection.
I have a very limited selection because they are hand painted by real people so snap them up now while you can. When these sell out, it'll be 6 weeks before the next set are ready. You can get them here.
The following is a guest post from one of my True Colour Experts™ Claire Jefford! Read on to see her beautiful bathroom transformation and she's talking about how she chose the best white:
Have you had moments in your life where you wondered 'Why is this happening to me?' That was how I felt with my very first client. I was a brand spanking new designer, very eager to please but I put a value on my service that was way too low – not a good combination. However, you live and learn from your mistakes and I am a true believer that everything happens for a reason.
The 'better thing' that resulted from that experience three years ago now was this:
That client introduced me to Colour Me Happy and I was instantly hooked! In January, 2012 I bought Maria's e-book as well as her large colour boards. Hell, I was like a kid in a candy store the day they arrived on my doorstep!
Today, the boards come with me to every consultation and they played a major role in my two largest projects to date. The first was my Toronto clients' bathroom renovation that saw the space transformed from 'Blah' to 'Beautiful'.

Bathroom Before
And now….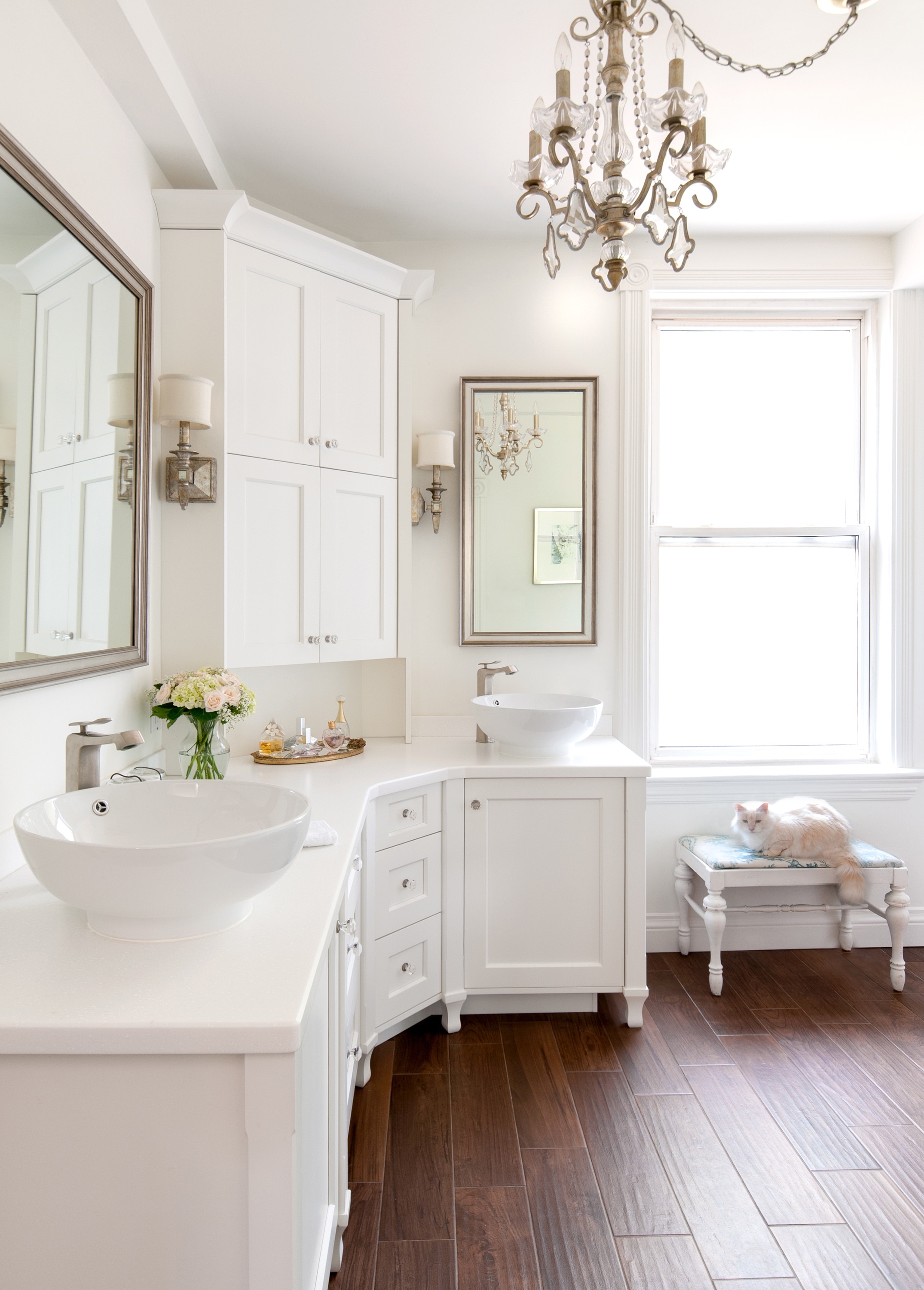 Bathroom After
I was able to choose the right white confidently and in a snap by comparing the selected shower tile with all the whites from my large colour boards. I could easily see that BM Snowfall White, OC 118 was the obvious choice. We then used this white for the entire bathroom including the walls, ceiling, trim and custom cabinetry.
The heated floors are a wood look ceramic tile that adds warmth and helps ground the space. The walnut hardwood used throughout this second floor renovation perfectly matches the ceramic bathroom tile, so there's a natural transition from room to room.
The flow continues with the colour palette where the walls and ceiling of the newly created closet lounge were painted BM Gray Cashmere, 2138-60 – also from my large colour board collection – with the Snowfall White repeated on the trim and crown molding.
That home photographed better than I ever imagined and my clients were thrilled with the result!
For my dental office project (before picture shown below) it took some time to create the overall design, but less than sixty seconds to knock the socks off my client during the presentation.
Like a good little designer, I put together all my samples and finishes with the following recommendations for paint colours by
Benjamin Moore
:
My client loved everything but asked me if we could go a bit lighter on the wall colour. Just at that moment, the office manager politely interrupted to tell the Doctor there was a phone call he needed to take. He excused himself and within the minute, he returned.
In the one minute that he was gone, I went through my boards, grabbed Gray Owl, OC 52 and put it in the place of Stonington Gray.
I said, 'What do you think about that colour instead?' He said 'Perfect, I love it. Let's do it. Are we done?' I said 'Yes!' and went on my way with a huge smile on my face.
It still amazes me to this day of just how easy it was to choose that alternate colour so fast, but how difficult it would've been if I was fumbling with a fan deck of hundreds of tiny colour chips.
Attending the True Colour Expert Course in 2012 and purchasing Maria's large colour boards are two of the best investments I've ever made, not only in my business but also in myself. Having exclusive access to the TCE private facebook page is an added bonus as it's the perfect place to share with others who empathise with the struggles and successes of similar experiences and I've created lovely friendships along the way with like minded people I would otherwise never know.
Thank you Maria for doing what you do so fabulously, that has allows me to do what I do so fabulously! xo
Claire Jefford is a Certified Interior Decorator and Owner at Creating Contrast Designs in Southern Ontario. To see more on her stunning bathroom transformation, click here.
If you would like to learn how to choose colour with confidence, become a True Colour Expert.